Technology has a history of starring roles, but how much pans out?
By Laura Haight
Originally published in the Upstate Business Journal as the Digital Maven
Snowden, the new Oliver Stone movie about whistleblower/traitor/hero Edward Snowden's journey from the Beltway to exile in Moscow, opened last month. Reviews were mixed and the film seemed to have fizzled fast.
Technology has often played a key role in big-budget flicks and scripted TV series. And it's an artistic challenge. No matter how innovative you are, it is hard to make working at a computer look exciting.
Some succeeded better than others. Here, not in any particular order save the last one, are my favorite movies with tech in a starring role. I'd love to hear yours - #UBJFilmTech.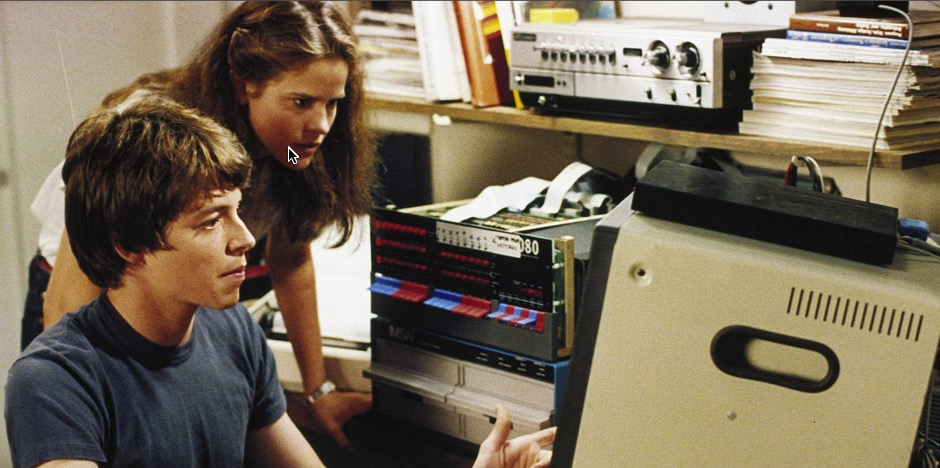 WarGames (1983)
WarGames (1983). How about a nice game of thermonuclear war? Three years before Matthew Broderick took a day off, he was an unruly prodigy who just wanted to play computer games. Unwittingly, Broderick sets off a chain of events that illustrates the dangers of computers developing their own intelligence and taking control. What panned out? IBM's Watson is a machine learning platform that using natural language processing to understand and communicate; and analyzes unstructured data (about 80 percent of the world's data is unstructured) to provide insights into anything from a business problem to the meaning of art.
Sneakers (1992)
OK, full disclosure. It's really Robert Redford and Sidney Poitier that made this movie for me. But there was some cool spy-tech and a peak into our technology future. The central theme of the movie is encryption and the evil doers who find a way to break all encryption codes. Sounds eerily familiar. What panned out?: Encryption has become a cybersecurity challenge squarely at the crossroads of privacy and safety.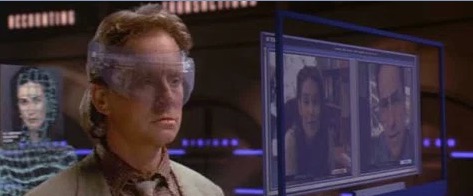 Disclosure (1994)
Corporate boss Demi Moore seduces an unwilling employee, Michael Douglas. He sues for sexual harassment and casts light on a web of corporate deception. A supporting player is DigiCom's new virtual reality system that Douglas uses to uncover the truth about the business and upend a merger. What panned out? Accessing a new environment by putting on a clunky looking headset is today's Virtual Reality. And the headset envisioned in 1994 looks almost exactly the same today.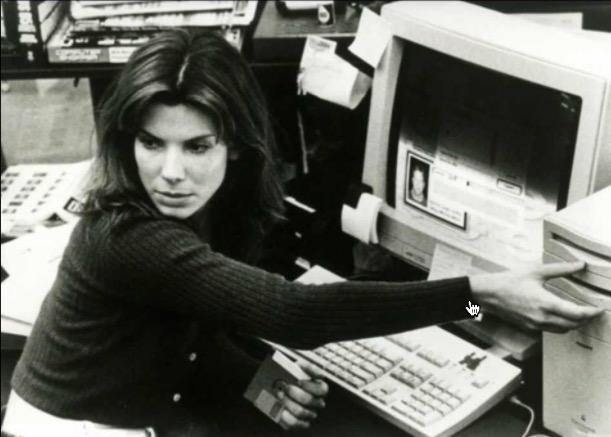 The Net (1995)
The Net (1995). Are you starting to see a trend here? Computers in the hands of greedy, evil, criminal types used to steal identities, overturn governments, destroy financial markets and take over the world. Sandra Bullock stars in this one as an introverted programmer who stumbles onto a broad hacking conspiracy while debugging a computer game. Only problem is, she doesn't realize what she's found. But the cybercriminals do, resulting in one bad Mexican vacation, a destroyed identity and a string of dead bodies. What panned out? State sponsored hacking happens so regularly that it rarely seems to invoke much outrage. The US has hacked into the Iranian nuclear program, China and Russia are regular players in this high-stakes game.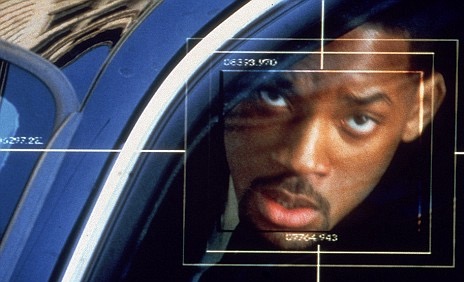 Enemy of the State (1998)
Will Smith is a successful Washington, D.C., attorney, who runs afoul of a corrupt NSA official covering up a murder. The NSA has satellites and operatives, computers and encryption codes to deploy in its effort to get back evidence of the murder that has come into Will's unknowing possession. Corrupt government officials using technology to spy on law-abiding American citizens? Aw, c'mon, that can't happen! What panned out? Maybe not corrupt government officials, but government spying on US citizens by tapping into cell phone transmissions does qualify as "spying." Thank you, NSA!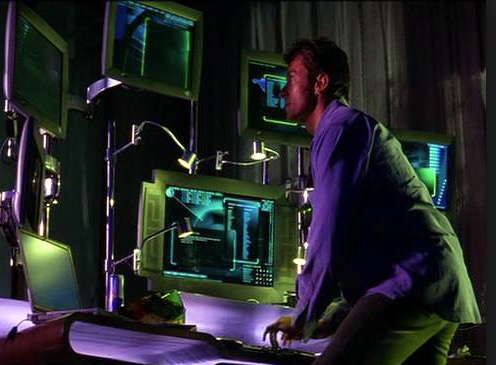 Swordfish (2001)
The computer geek as virtuoso. Hugh Jackman is a hacker blackmailed by John Travolta to break into government coffers and recover nearly $10 mil in confiscated cash. Jackman makes typing on a keyboard surrounded by a multi-screen array seem more like a concert pianist interpreting Chopin than a hacker wielding Cobol. Oh, yeah, if that's not enough for you, Halle Berry's in it too. What panned out? Certainly, there are hackers dipping into banking systems. In 2015, Security company Kaspersky reported a $900 million hack of more than 100 banks worldwide, conducted by an international crime syndicate.
Eagle Eye (2008)
Technology in the hands of a computer program gone rogue works against Shia LeBeouf - a slacker named Jerry. Jerry, whose much-smarter twin has just died in a car accident, has his life turned against him by an anonymous caller who uses technology to destroy Jerry's life and reputation and to force him follow instructions that will culminate with the assassination of the president and most of Congress. What panned out? Today there are more than 245 million cameras globally. Are they watching you? The Investigation Discovery network cites studies estimating that the average American is caught on camera 75 times a day. Smile!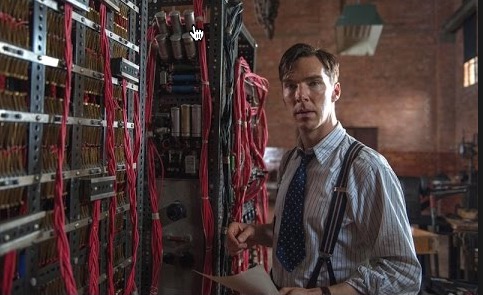 The Imitation Game (2014)
Benedict Cumberbach portrays Alan Turing in his quest to break the German Enigma code and change the course of World War II. Turing is a mathematician and cryptographer, socially awkward, closeted homosexual and brilliant. He builds his Turing Machine, which, against all odds – and without a lot of love from his supervisors and team members – breaks the code. Turing's genius was largely unheralded during his life, which ended prematurely and by his own hand in 1954 at age 41. Two years previously he had been arrested for committing a homosexual act and convicted of "indecency." That cost him his security clearance and his job. Fifty-five years later, the British government publicly apologized for "the appalling way he was treated." And in 2013, Turing, now known as the father of modern computing, was granted a posthumous pardon by Queen Elizabeth. What panned out? Computers saved – and then changed – the world.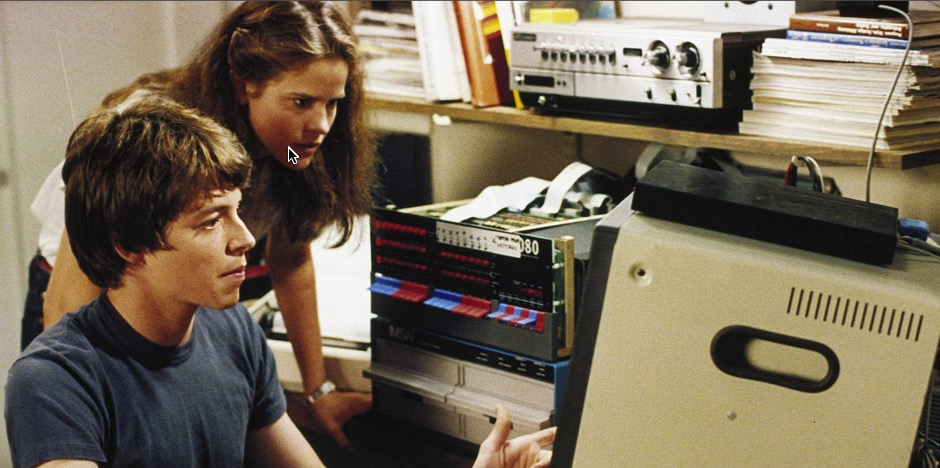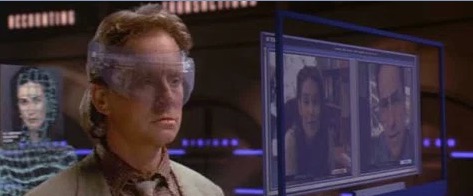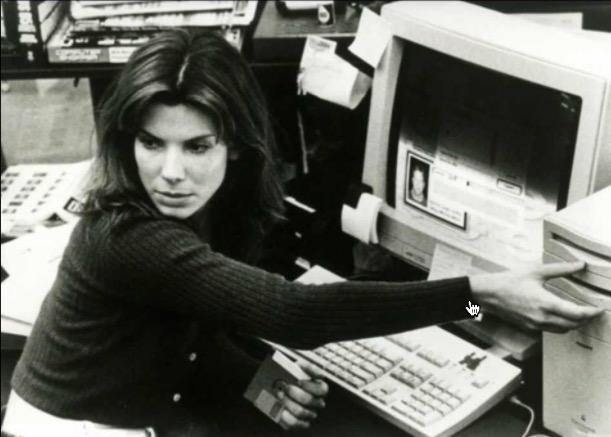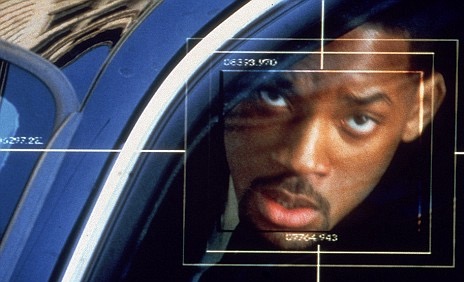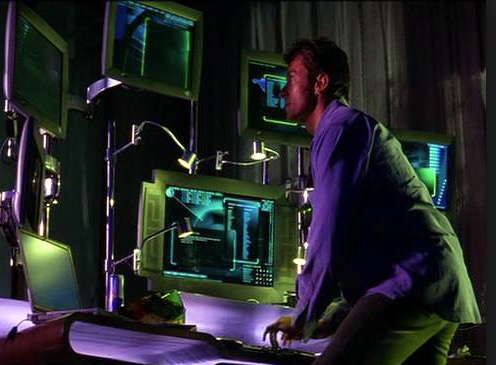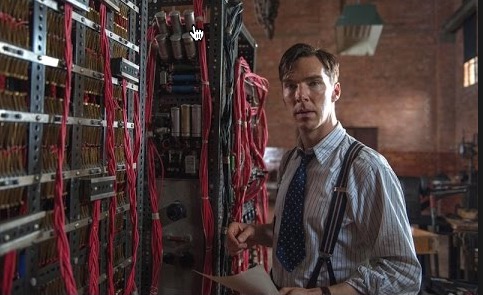 Top Photo: Spencer Tracy and Kathryn Hepburn in 1957's Desk Set. A classic. And tech had nothing to do with that!